Customizing/adding/removing checkout fields
It would be a more versatil platform if you had the ability to customize the checkout form and adress information. In nordic contries state is not something that is used and therefor should not be displayed.
Merged in a post:
County
Having issues with the "county" since most customers where I live don't use county. System requires county and makes a error so can't complete order with typing county
Merged in a post:
Customize the text in Checkout
It would be great for a lot of us to make the checkout text customized. All text and text input should be editable! Then we don't need to add Bablic. Make it simple, guys!
Merged in a post:
Business Name
A way to indicate if a Product is for a business and then collect Business Name during subscription signup instead of just First Name/Last Name
Merged in a post:
Marketing options
Be able to change marketing permissions so there is a option for us to ask which specific ways they would like to be marketed e.g. email, tel and postage.
Merged in a post:
HIDE COUPON CODE BOX
I'd love to turn off the coupon code box if I have no active coupons. I feel this makes customers pause/leave the cart and go look for a coupon, OR makes them feel like they *should* have one when none may be available.
Merged in a post:
Add a ''logout'' button on the success page of the checkout (needed for POS sales and events)
I have a customer who is upset that when they returned to our new check-out page that the system stored their credit card information even tho they did not make a purchase.
I'm sure this was added so the customer would not have to re-enter their information but it makes people think we're not a secured site.
Whenever someone visits our site from their computer because we store their credit card information, that other person can use their card.
This could also be an issue for us as we do vendor tables and often allow people to check-out on our company computer.
Is there a way to stop this from happening?
Merged in a post:
Delivery info on one-time product checkout
Delivery information submitted on a one-time product does not appear at checkout as it does with subscriptions. Is it possible to add the info icon and display the delivery info as a roll over, just as it does for subscriptions?
Merged in a post:
Customizable Thank you Page
The ability to add custom links and notes on the 'Thank You' page
Merged in a post:
Add descriptions to subscription levels
It would be great if we could add unique images/descriptions for different subscription levels within a subscription. See the screenshot for an example.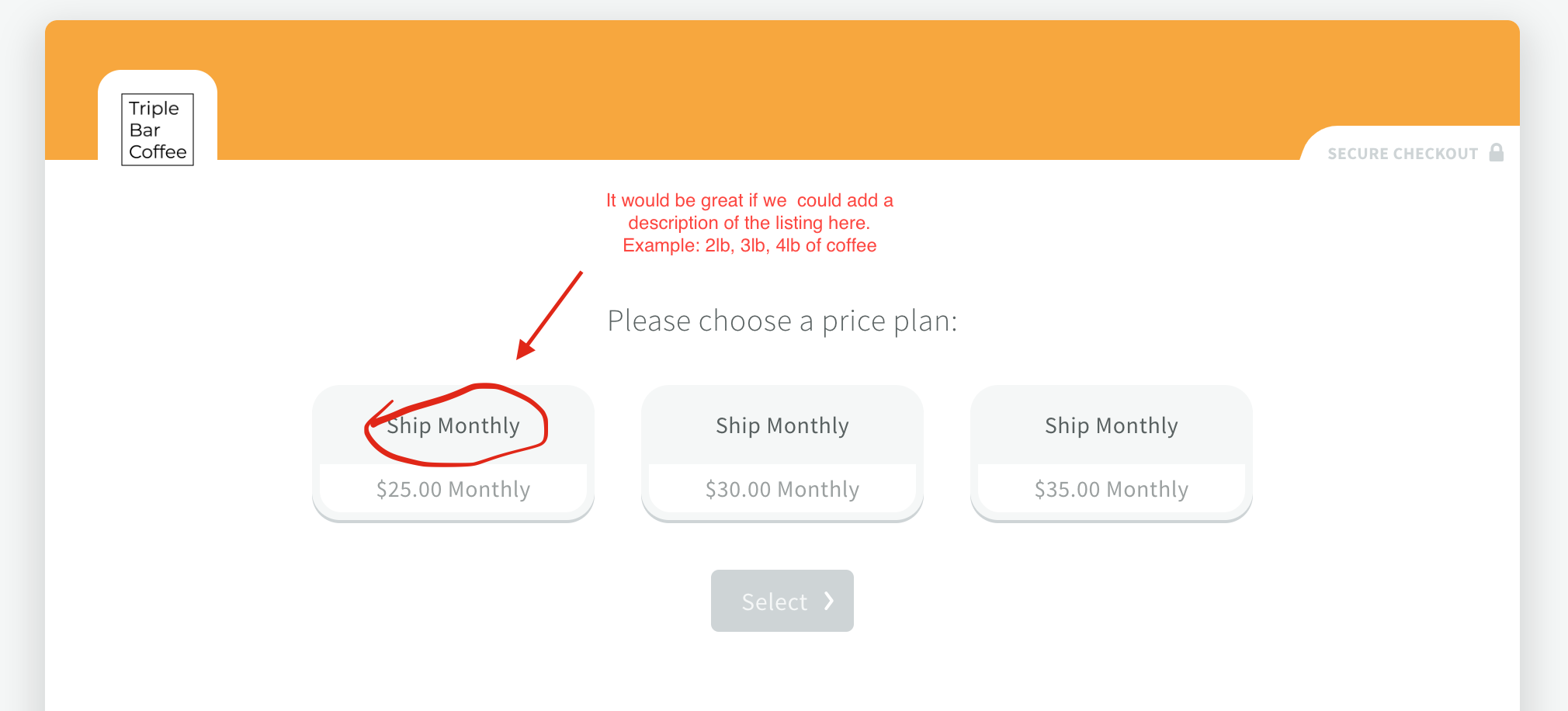 Merged in a post:
Add photos to the checkout pages
Add photos to checkout cart.